Kairo Urovi, Light Are The Wounds Heavy Is The Wind, 2023


GENERATION LOCKDOWN #1: Kairo Urovi x Laura Bivolaru
GENERATION LOCKDOWN is a series of interviews with 2023 BA Photography graduates from UK universities.
Tell me a bit about yourself and about why you chose to study
photography at LCC.

I'm an Italo-Albanian photographer based in London. My work sits at the
intersections of queerness, family, belonging and identity. I moved to London
in 2014 with my family - before that, we lived in a small town in northern Italy.
My parents moved from Albania to Italy in the 90s, after the end of the
communist regime. Moving to London made me realise that I could make a
living out of photography, so I researched university courses and did a
Summer school in LCC when I was 16. I still remember being in the darkroom
for the first time and thinking "this is where I need to be" so that's how it
happened. It sounds so cliché but I'm really grateful to have met tutors like
Adrian Wood there who made me fall in love with the craft even more.

Your project, 'Light Are The Wounds Heavy Is The Wind', is a deeply
personal journey. Three years after your gender transition, you are
visiting your home country, Albania, where you haven't been since you
were a child. How has this voyage changed you and your approach to
photography?

I love this question. My journey back to Albania turned my world upside down.
It changed me in so many ways that I'm still trying to wrap my head around it.
Firstly, it reminded me of how one's ability to use language to express
themselves can be lost if you find yourself in a place that's not necessarily
safe. Albanian culture, or my family's way of communicating actually, is very
non-confrontational. There are many hushed conversations and glances of
either confusion or acknowledgement. Everyone could tell that I was a
different person but we never talked about it. For a month, language became
an impossible way of communicating and feeling seen. This hurt a lot, but it
also reinstated my faith in photography; whenever there was a lack of words I
found a way through image-making. I've also noticed there is a massive void
to fill when it comes to documenting an experience like this. At the end of the
day I am making this work for other queer and trans kids who may have to
fight between their queerness and cultural identity like I did. I didn't think there
was a place for me in Albania but I've tried to create one through this work.



Kairo Urovi, Light Are The Wounds Heavy Is The Wind, 2023
Do you think photography is the right tool for personal narratives? Why
or why not?
I don't think there are any right or wrong tools one can use to share their
personal narratives, as long as the work is true to who you are and you put
your everything in it no one can tell you shit. Maybe things would be different if
photography and cameras didn't exist, I'm not sure what I would do. I'd
probably turn to music or words. I've heard everyone has a stronger
developed sense out of the five we have and I am definitely driven by my
sight. But I've found I can't make any work that doesn't include a personal
element to it. I think a lot about legacy and the longevity of photographs and
archives have been a constant source of inspiration, especially for this project.
Philip Kwame Apagya said "if you don't photograph yourself, you die forever"
and I think that's true. People are touched by photographs, by associating an
image to a memory, person or feeling. So yeah, I do think it's a really powerful
tool for personal narratives.
Kairo Urovi, Light Are The Wounds Heavy Is The Wind, 2023
You started the course in 2019. How did the lockdowns affect your
education?
The lockdowns created a lot of restrictions on what work I could make. I didn't
do anything for a very long time, I didn't feel like making any work despite
being at university. But one day I started taking Polaroids of me in one of my
outfits, and a little project came out of that called What A Boy Is. I would dress
up every Tuesday afternoon and take a Polaroid. Setting a small task helped
me, I was also figuring out my self and my gender expression so I see it as a
great documentation of how I started my gender transition.
Looking back however, I see how lockdowns hindered my education. I decided
to take a gap year in fact and wait for everything to be open again. I missed
the darkroom and the sense of community a lot, and coming back to uni for
my third year I felt a sense of urgency in wanting to push myself and my
practice. In a way, we've been all making up for the time lost during that time.
There are loads of collectives starting and it's really nice to see, it gives me
hope after graduation.
Kairo Urovi, Light Are The Wounds Heavy Is The Wind, LCC Graduation Show, 2023
Tell me more about the process of turning this project into a book.
I think of my work as a series, always imagining the photographs being in a
physical form somehow. When I was younger I used to make zines all the
time and it only felt natural for this project to turn into a book. I also had never
seen any books that told the story of a queer and trans Albanian artist from
the diaspora. For me, it's important to leave as many physical traces of your
story as possible so people like me can have someone/something to look
back to.
There are so many possibilities when it comes to making a book - you gotta
figure out the right balance between too much and too little. The size, the
paper type, the fonts, everything needs to be thought about. This allowed me
to curate the story I wanted to tell. I spent a long time thinking what I wanted
this project to say - this is the most important thing, the rest follows. I
handmade 10 copies myself because I wanted to learn the process of creating
something like this from start to finish - It made everything feel more special,
and it slowed me down despite having to work with loads of deadlines. There
were so many times I felt like it wasn't making sense, but then you take a step
back and it makes sense.
My biggest joy was having my grandmother at the grad show. Seeing her flick
through the book, look at images of the neighbourhood she grew up in, tearing
up at some of the photographs. I think that's when I knew it was all worth it.
What do you think is today's biggest challenge for an emerging artist?
How could the industry address it to support early-career artists?
The biggest challenge today is slowing down and not working with a fear that
unless you're constantly creating then you're not doing anything. It's also so
hard doing this whilst trying to make an income because most times you're
just trying to make ends meet. Longevity takes time to build and I think a lot of
us are preoccupied with looking like we are constantly doing stuff without
thinking about the quality of the work, myself included. Doing this project has
definitely made me realise that and slow down.
There's also such a massive gap between people who create their own
spaces and already established galleries, magazines and businesses. The
latter are starting to realise that they can't get anywhere without new, raw
talent. I think the industry is already addressing these issues by creating
spaces and workshops that foster a community, like creative lives in progress
for example. We just need to keep having these conversations, create our
own communities and bridge these gaps.
You can find Kairo here:
kairourovi.com
www.instagram.com/kairo.kay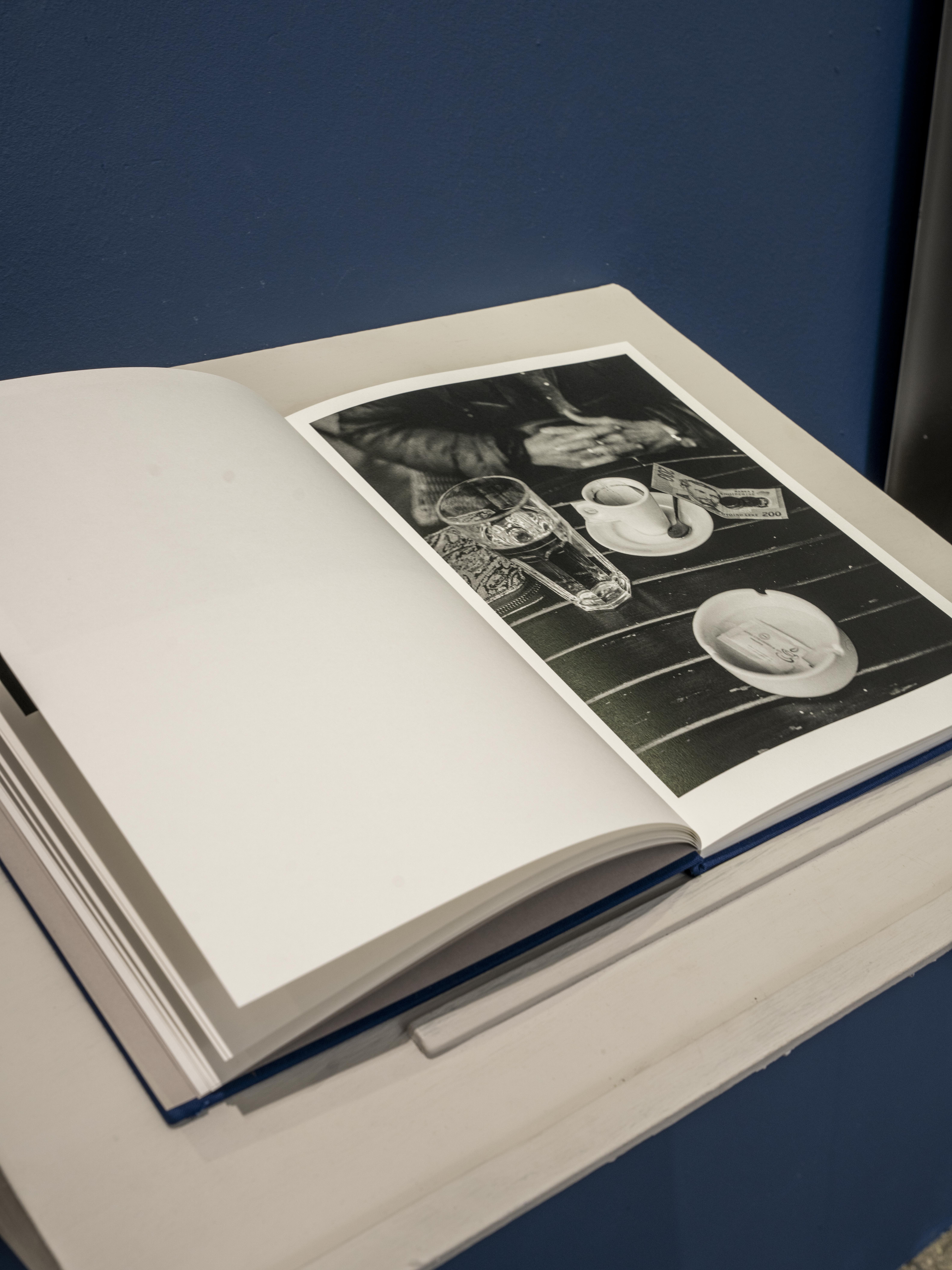 Kairo Urovi, Light Are The Wounds Heavy Is The Wind, 2023