Roots or Routes?


On the closing weekend of Brighton Photo Fringe 2018, Revolv delivered and facilitated the workshop Roots or Routes, questioning what constitutes home and our sense of belonging.
The intervention stemmed up and was a continuation of the latest work of the artists Krasimira Butseva and Lina Ivanova - 4UZHBINA. The workshop became an extension to the enquiry into the artists' own backgroun
journeys.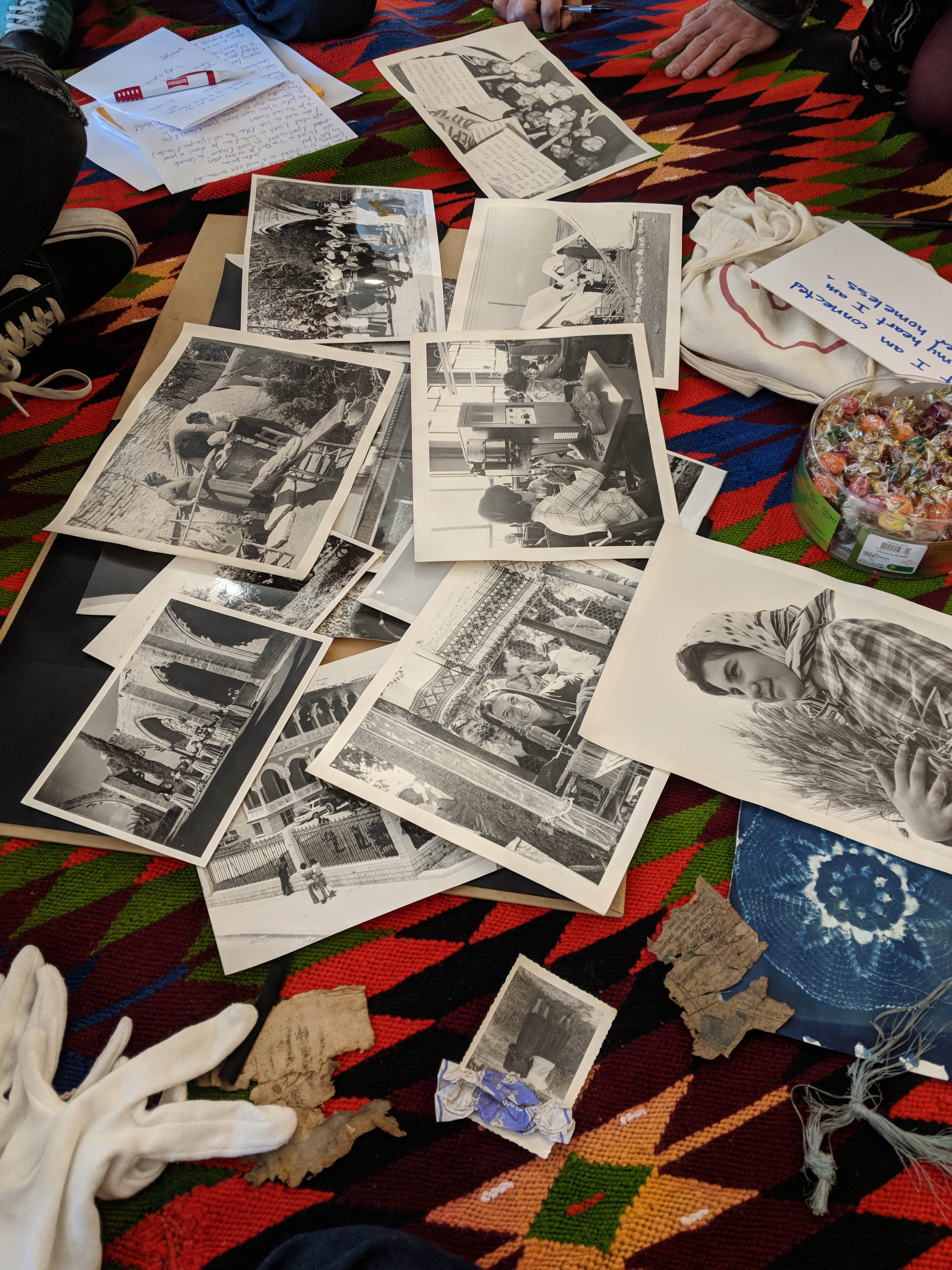 All the participants were required to bring objects or memories that remind them of home in order to take part. The workshop took place on a traditional Bulgarian rug, at Phoenix Brighton in the Collective's Hub. The founders of Revolv contributed to the workshop with
personal possessions and collaborated with the participants. Starting with a series of questions on background and identity, everyone had to write a short piece to presen themselves to the group but also fulfil the first creative process.

Roots or Routes became simultaneously the creation of a zine, but also an alternative version of therapy as everybody shared personal, traumatic or intimate stories which they carried through the places visited, lived and raised in. The memories entangled together and created a collective idea of home described as a ''warm feeling and place'', ''where it's sunny most of the time''. For others ''home is whenever I am welcomed.'' and ''home is being able to
notice the sea from every angle of the city'' as well as a feeling ''right to be here'' and often just slices of time – ''reminders like smell or taste''.




The next process of the workshop involved working with the objects, photographs and stories brought on the day. Each participant had to select somebody else's narrative and work with it instead of creating something from their own thoughts and possessions. Participants worked individually but also in pairs, while conversations were unfolding and confirming the resembling notions of home within each of the attendants. Appropriating work that was on show at Phoenix Brighton, using each other's images, creating sculptures and writing short memories were some of the activities that took place an



These photographs were then printed and along with the written accounts put together. Having heard each other's personal experiences, in relation to background and identity the participants felt familiar and understanding of each other's pasts. The zine was then installed as a part of 4UZHBINA and left there for last two days of the festival, as the work created enriched the series and continued them in further explorations.